When preparing for birth, my only expectation was to birth at home. I didn't care how I did it. I just wanted it to be as physiological as possible. I wanted our midwife to be hands-off unless there was an emergency, but I ended up needing more coaching and support from her and the rest of my team than we all anticipated.
Birthing Rosie was the hardest thing I've ever done, but it was also the most rewarding. I labored for a total of 32 hours with 20 of those hours being active labor. I went in and out of transition 3 times — vomiting each time — but ended up bringing Rosie earth side peacefully on our bed. Here's our story:
My due date was toward the end of December but I didn't put a lot of emphasis on that day for a few reasons:
The traditional way of calculating the estimated due date (40 weeks after the last menstrual period) is not evidence-based
Only 5% of women have their baby on their due date
In a 2001 study of 1,514 healthy women, 50% of all women giving birth for the first time gave birth by 40 weeks and 5 days, while 75% gave birth by 41 weeks and 2 days
I always felt like I wouldn't go into labor until the next full moon
But our midwife encouraged us to plan on having a "due date" date so Brandon and I got pedicures at my favorite nontoxic salon, Pink Pedi. Then we grabbed lunch and spent the rest of the day relaxing on the couch watching movies.
I woke up feeling crampy at 6 AM the next day. I laid low and denied the fact that this could possibly be early labor. I was resting on the couch while my husband was at the gym and I realized these cramps were coming and going so I decided to time them. They were about 8 minutes apart. I texted my midwife just to let her know that my body was doing some work, but I felt calm and peaceful and was totally prepared to have a long early labor that could last even a few days.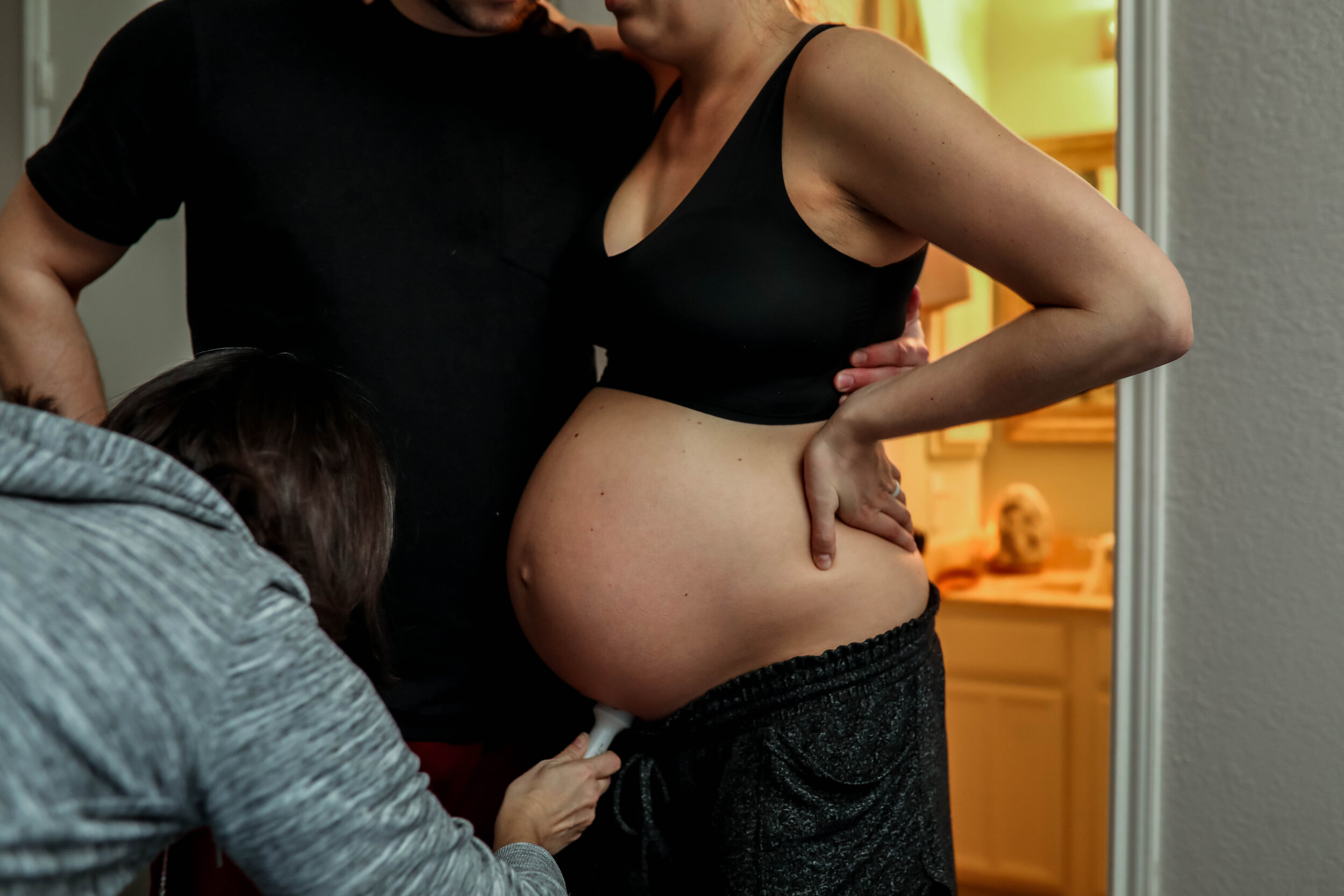 Around 11 AM, I lost my mucous plug so I couldn't deny that things really were happening! I didn't time any additional contractions after the morning ones because I wanted to sink into each wave and not overthink it. At 4 PM, we hit the "5-1-1" mark (when contractions are 5 minutes apart, lasting for 1 minute, consistently for 1 hour) and I started needing to focus on them so my husband called our midwife. We all agreed that it was still a bit early because I didn't feel like I needed her yet. She decided to head our way around 6 PM along with the birth photographer / videographer and my mom.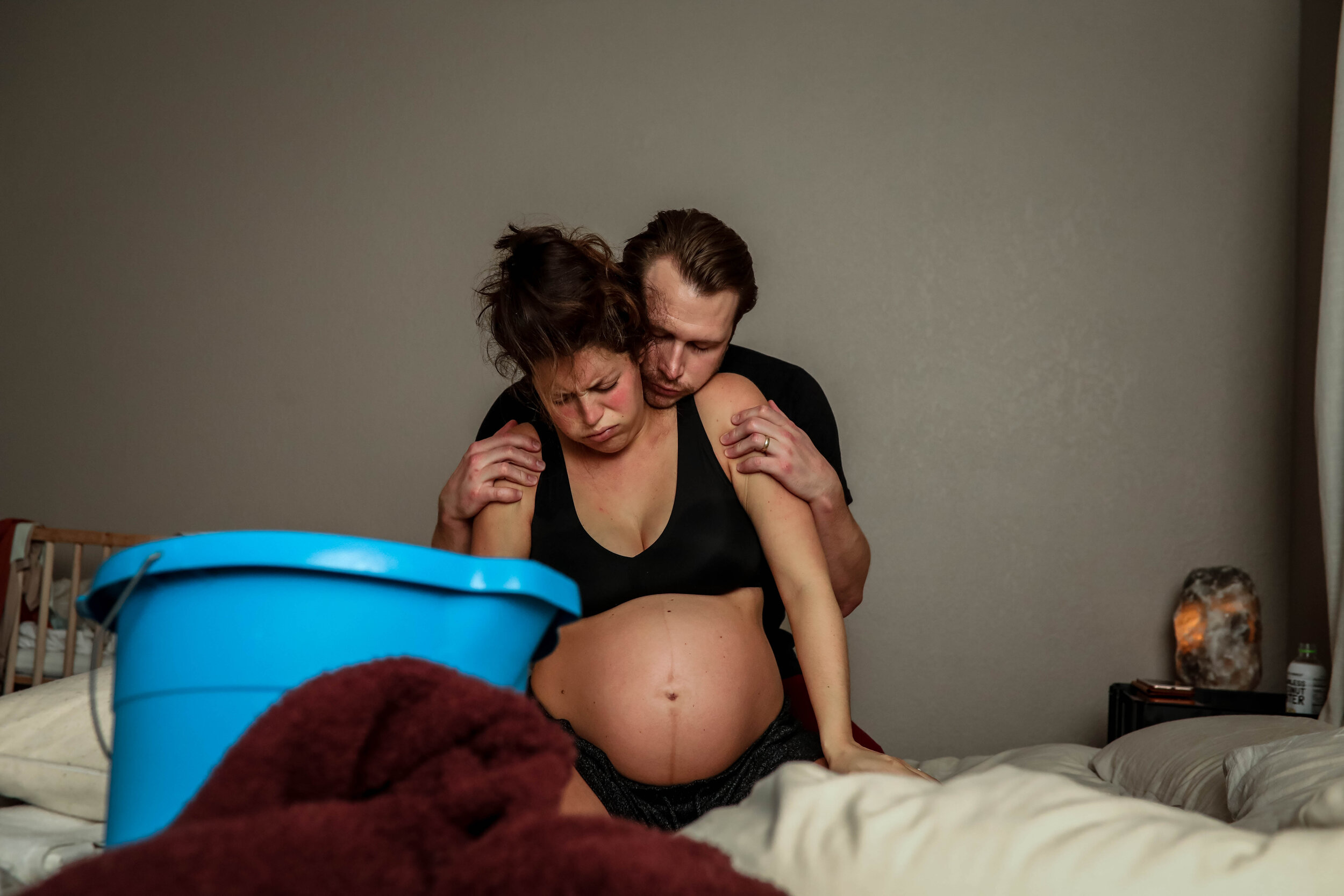 When they arrived, my contractions were strong enough that I didn't acknowledge they were there. I decided to get in the birthing tub and vomited after a few minutes. This was transition. We planned on not doing cervical checks but I was curious so I asked my midwife to check my cervix. She felt like I was fully dilated and everyone in the room felt like our baby would be here soon!
I pushed for an hour without any progress. I felt tired and hot and like I needed to change things up so I went to labor on the toilet. Here's the deal:  throughout the 32 hours I labored, I pooped 10 times! My body just continued to clear the way for more baby to come through and it became something we all laughed about throughout the night. They say not to have anyone at your birth that you wouldn't feel comfortable having a bowel movement in front of and I can absolutely say this is true! Don't fear pooping during labor or birth!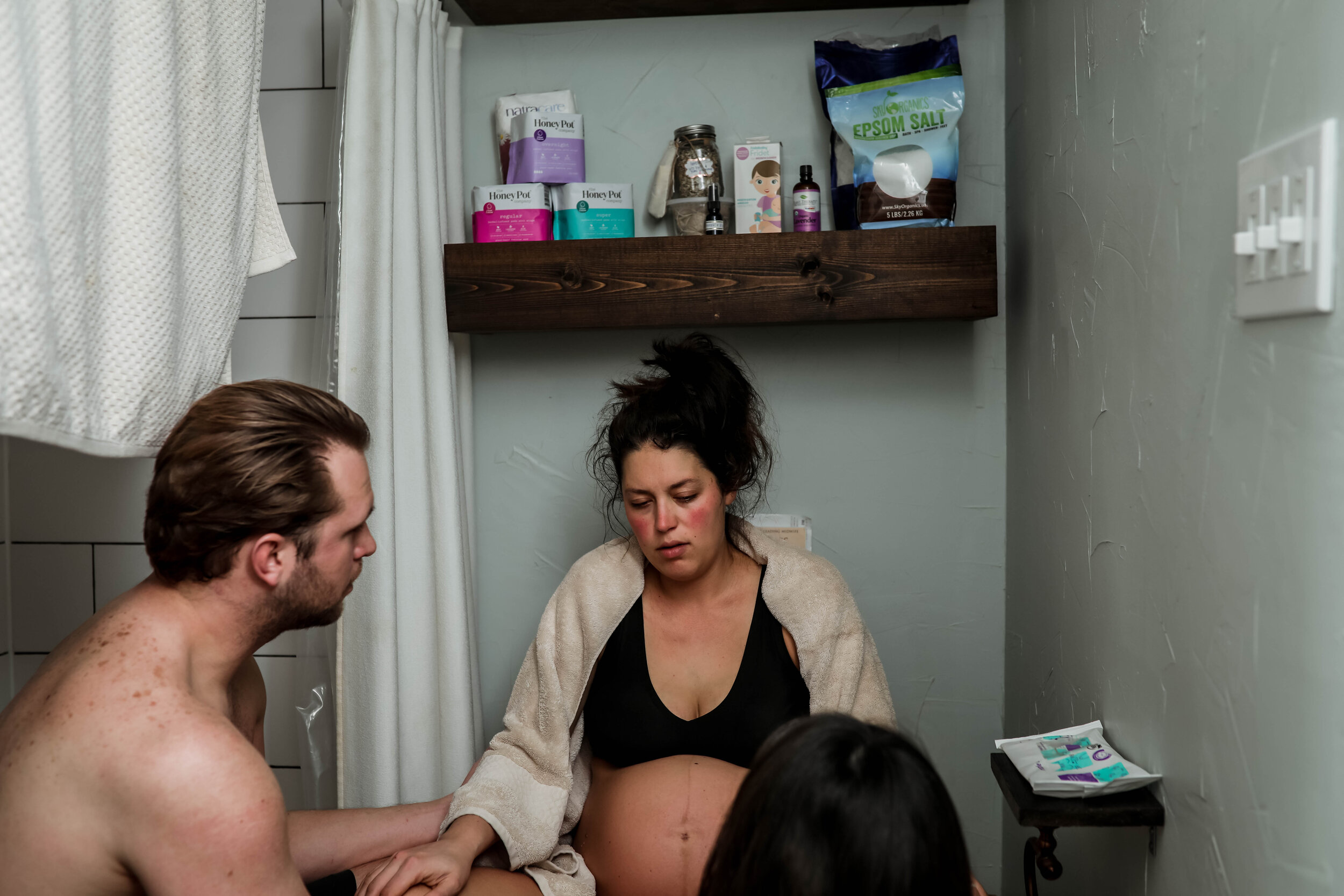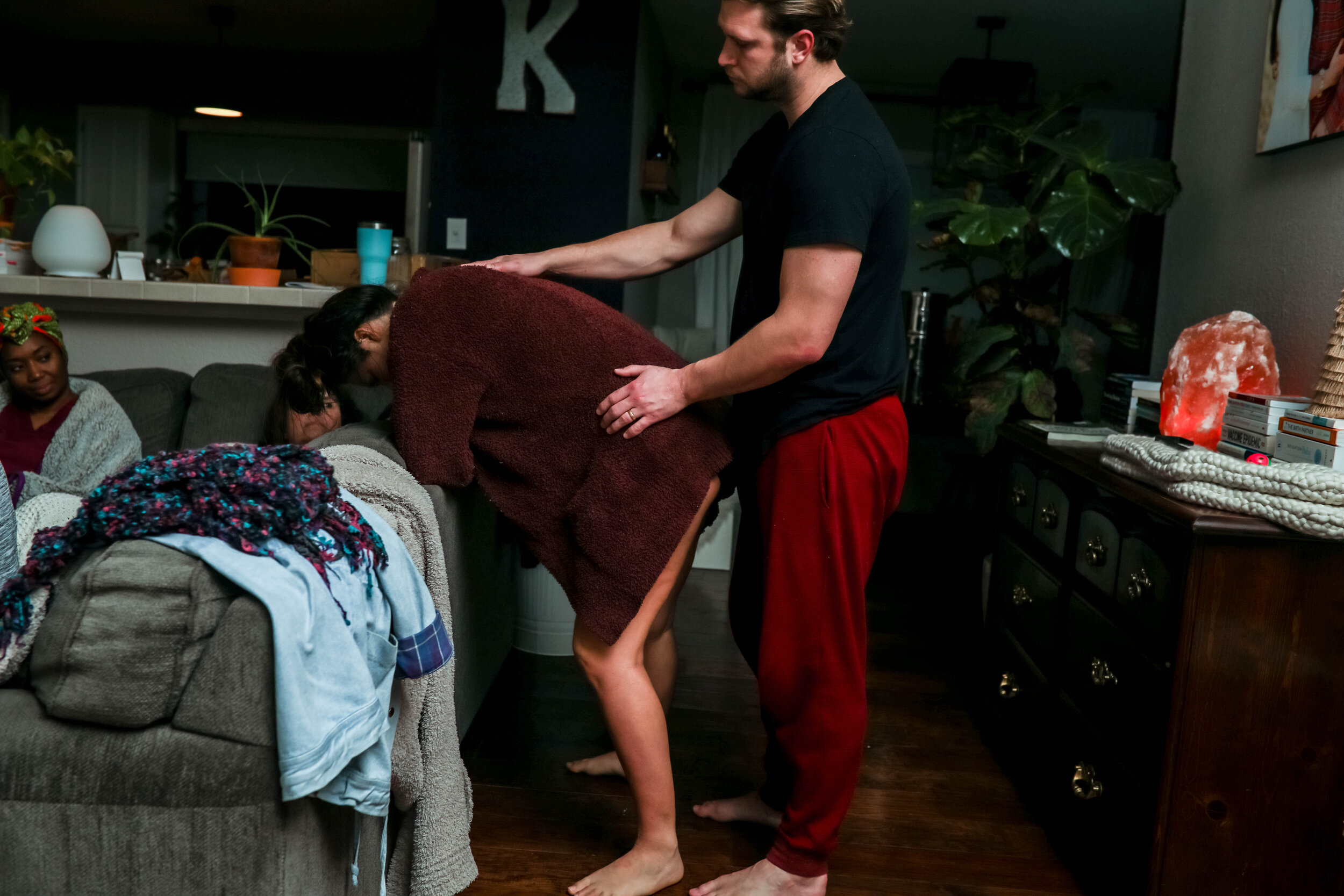 I was exhausted so I suggested that we all try to get some sleep since it was past all our bedtimes. The house got dark and quiet while I labored in bed with my husband, but things shifted. One of my main focuses for labor preparation was understanding the difference between pain and pressure. To me, pain is "ouch" and there were only two times I felt this "ouch" during labor. This was one of those times. I suddenly started to experience shooting nerve pain in the front of my lower belly.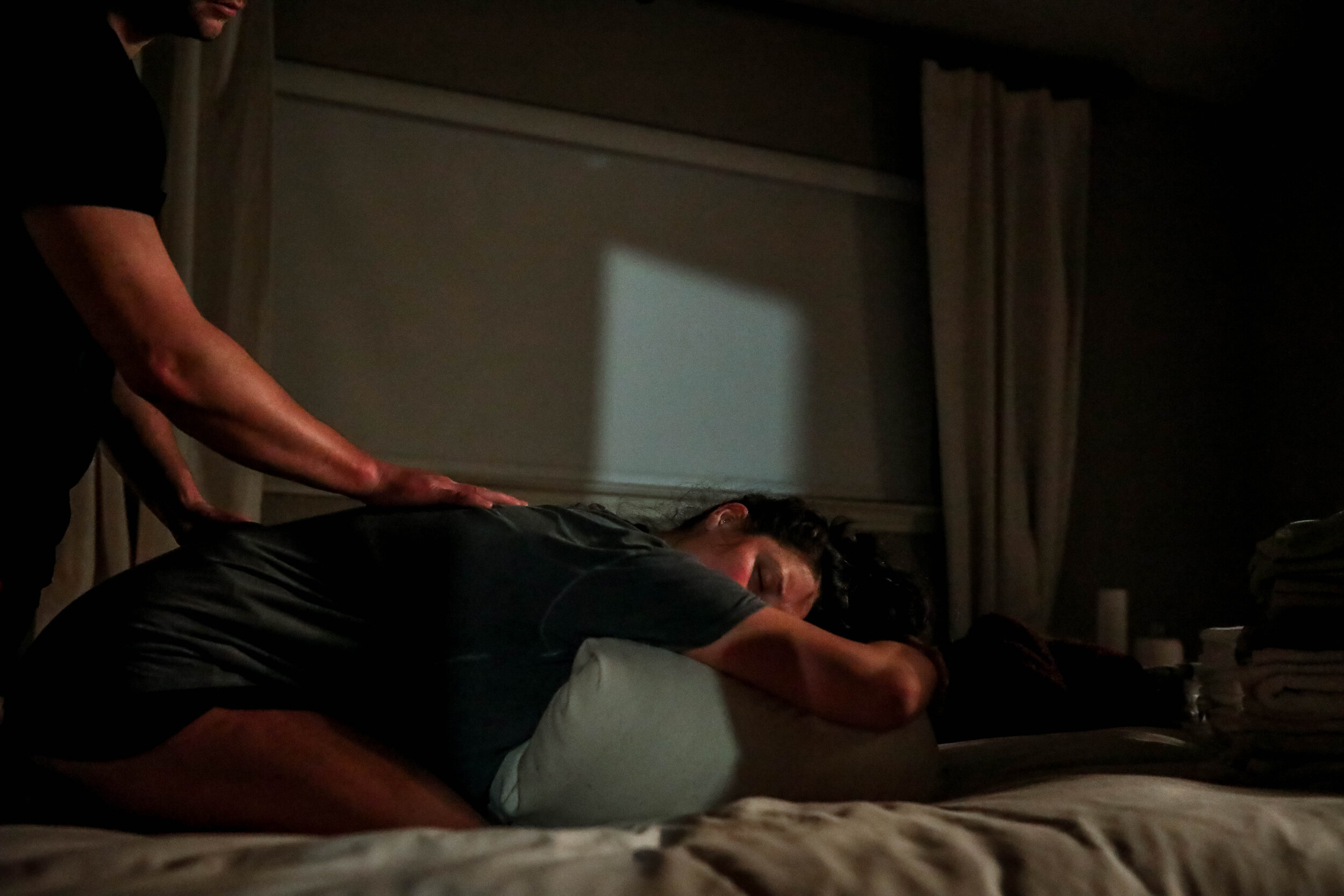 In my professional opinion, it seemed like we were dealing with some positional issues. Around 3 AM, I asked my husband to call my best friend and prenatal chiropractor, Dr. Lindsay Robinson and my womb massage specialist, Mayte.
Lindsay adjusted me and things intensified. She timed a few of my contractions and they were rolling almost one on top of the other. Mayte arrived and we figured out the source of my pain. The baby was stuck on my pubic bone. She worked on me through contractions and then I felt like getting in the birthing tub again.
In the tub, I vomited again and felt the urges to push. After 30 minutes of pushing, my midwife asked to feel some of my pushes. During this, she discovered I had a cervical lip. I felt defeated. I had been in labor for almost 24 hours and it seemed like everything I was doing was ineffective. She suggested I labor on my own for a little while again to try to work past this cervical lip but after a few hours, no change.
This is when I began to lose my cool. I cried a lot and felt extreme frustration. After 30 hours, I didn't know how much energy I had left to give. I kept thinking that I just wanted to push pause on all the contractions, take a nap, and reconvene after some good sleep.
I got out of the tub and labored again on the toilet but this time, I was angry. I called the midwife into the bathroom and cried and begged for an epidural. If I was in a hospital where they are readily available and often pushed, I absolutely would have accepted. I'm so grateful for my husband — the fierce protector of our birthing desires — and the entire birth team for speaking such hard truths into me during that time of extreme self doubt.
My midwife made me a deal:  We would do some guided pushing with me on my back (lithotomy position) so she could feel the cervical lip and if after 5 pushes, I couldn't get the head past it, we would transfer and she would support me in that decision. Because for whatever reason, in my brain, I had convinced myself that if I could get an epidural, I could rest and relax enough for the swelling to go down.
But the cause of the swelling had so much purpose. It was a need for further flexion and rotation for the baby to line up with the lower portions of the pelvis. The funny thing about this moment is that we met Rosie one hour later. It was like I needed to get to this place of complete surrender and truly let go before bringing her here.
And what everyone knew but me was that I was too far along to get an epidural and so close to birthing that I would most likely deliver in the car if we electively transferred so we weren't going anywhere.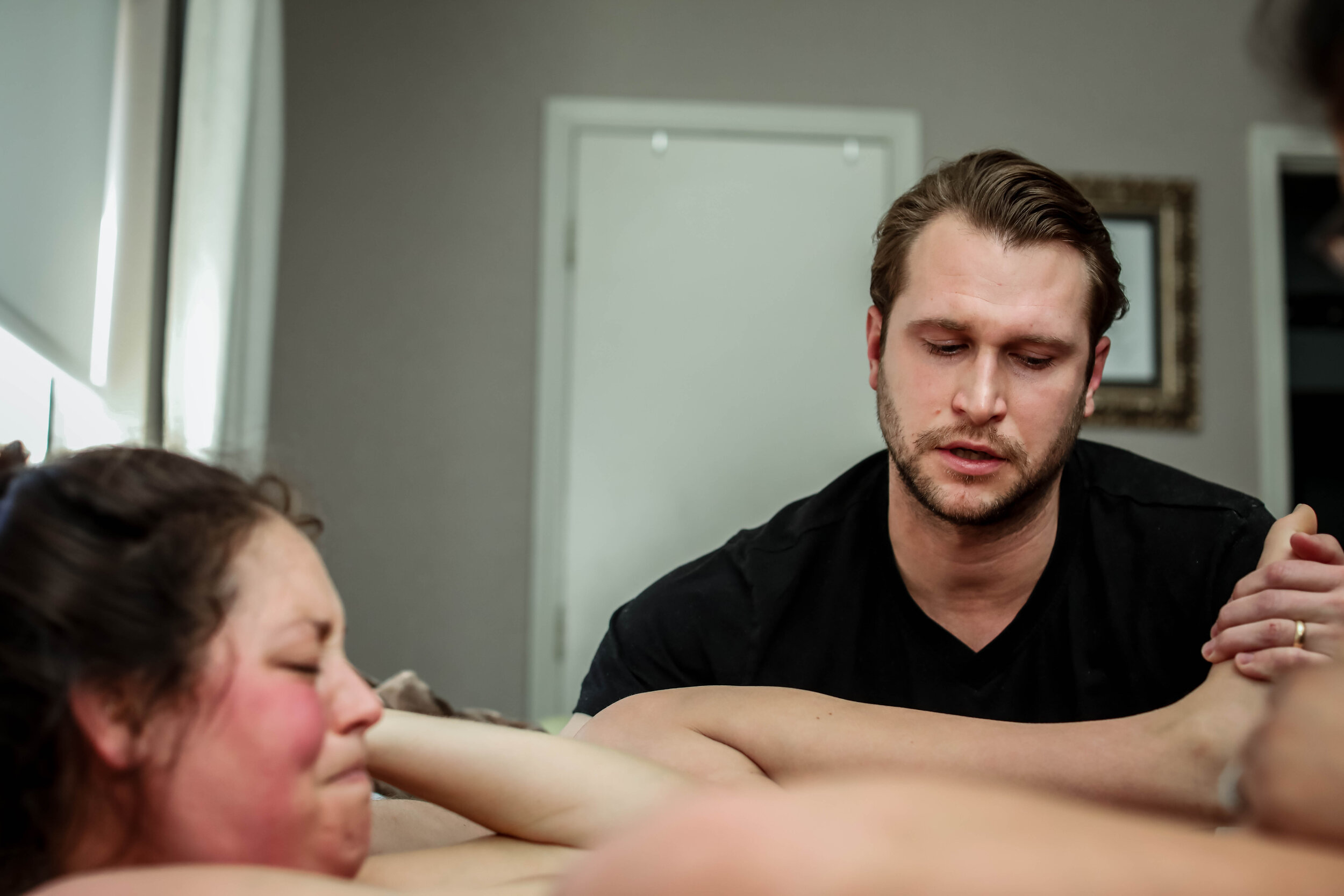 After a few pushes, she had manually moved the cervical lip out of the way and the second I heard that, I looked at everyone in our bedroom and said, "I can do this!" They all started crying because they needed to hear me say that after doubting myself for hours before.
I pushed and was able to feel the head with my fingertips. Then my team told me they could see lots of dark hair and I started crying. They let me see with a mirror and after a few more pushes, the head was out.
I will never forget that feeling. I laid back with relief because it felt so good! Honestly, all of pushing felt satisfying. It's like I was finally able to feel the results my body had been working so hard to accomplish. But this is also when I experienced the second "ouch" moment. I ended up with a second degree tear and it was the stinging of my tissues tearing that hurt. Besides those two complications, I wouldn't describe labor as painful. It was hard work, but not painful.
My midwife observed a nuchal cord (wrapping of the umbilical around the neck) but that isn't something to panic over so she gently removed it during the next contraction. Her shoulders came out and I was curled forward watching her entire body come out of me. It was like time stood still. It was slow and peaceful because we didn't have anyone pulling on her. With one more push her entire body came out and I swooped her up and tearfully announced, "IT'S A GIRL!"
At 1:54 pm, after 32 hours of labor with 20 of those hours being active labor, we finally met our Rosie girl.
She weighed 7 lbs 12 ounces but pooped 5 times before getting weighed so we all think she was easily over 8 lbs. Also, like mother like daughter with those bowel movements, am I right!? She was 21 inches long and came out wide eyed, calm, and alert. She also had a true knot in her umbilical cord which is very rare. In fact, the reported incidence of true knots of the umbilical cords ranges from 0.3% to 2%.
I am the oldest of 5 kids (4 girls and 1 boy) and this is the first grandbaby so within a few hours of her birth, all my siblings came to my house for a gender reveal!
Then I was able to give Rosie her first pediatric neurological evaluation and gentle, yet specific chiropractic adjustment.
Everything I just described is documented so beautifully in our birth video below:
My birth team:
Doula — Brandon Kahla, my husband
Midwife — Kassia Walcott, LM, CPM
Assistant Midwife — LaQuita Brazile, LM, CPM
Birth team support — Cheryl Ray, my mom
Photographer / videographer — Deborah Glenn
On-call support:
Chiropractor — Lindsay Robinson, DC
Womb massage specialist — Mayte